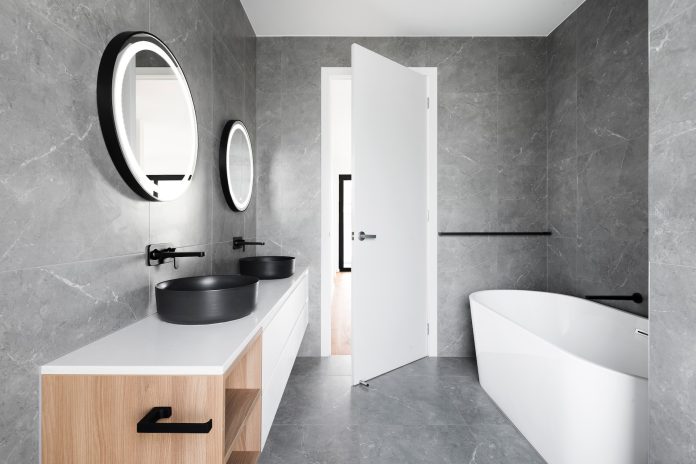 Are you looking to upgrade your bathroom vanity? Want to know the best ways to make your space look more stylish and luxurious? You can create an elegant and modern look for your bathroom with simple tips and tricks. In this blog post, we'll share some of our favorite vanity tips to help you transform your bathroom into a stylish oasis. Keep reading to learn more!
Upgrading your bathroom doesn't have to be expensive
When upgrading your bathroom, many people think they must spend a lot of money to achieve the desired look. However, that is not necessarily the case. Creativity and planning allow you to give your bathroom a new look without breaking the bank.
First, consider the small changes that can make a big difference. For example, changing out your shower curtain, adding some new towels, or replacing the hardware on your cabinets can give your bathroom an instant facelift. Additionally, adding plants or artwork can give the room a fresh, inviting feel.
Another way to upgrade your bathroom on a budget is to do DIY projects. Painting your bathroom cabinets or walls is a cost-effective way to transform the space. You can make decorative accents like a mason jar soap dispenser or a reclaimed wood shelf.
Finally, shop smart. Look for deals on clearance items, compare prices at different stores, and consider buying secondhand items. You may be surprised at the bargains you can find, which can help you stay within your budget.
Choose a style that fits your taste
Bathroom vanities are the centerpiece of any bathroom, so choosing a style that looks great and fits your taste is important. When considering your options, keep in mind the overall style of your home and choose something that complements it. If you have a modern, minimalist home, a sleek, contemporary vanity would be the perfect addition to your bathroom. If your home is more traditional, a vanity with ornate details and a classic design would fit nicely.
It's also important to consider the colors and materials that you prefer. White is always a classic choice for vanity, but don't be afraid to branch out with colors like gray, black, or even a bold, eye-catching hue. When it comes to materials, there are endless options. Natural wood is warm and inviting, while a glossy finish can create a more polished look.
Ultimately, the goal is to create a space you love, so choose a vanity that makes you happy. Whether it's sleek and modern or traditional and ornate, as long as it fits your taste and enhances the overall look of your bathroom, you can't go wrong.
Consider your storage needs
Storage is one of the most important aspects when upgrading your bathroom vanity. You need a place to store all your toiletries, towels, and other essentials. You want your bathroom to be clutter-free, but you also want everything to be easily accessible.
One option is to opt for a vanity that has plenty of drawers and cabinets. This will give you ample storage space and keep everything organized. If you have a smaller bathroom, a pedestal sink might be a better option as it will take up less space.
If you have many items that need storage, consider adding shelves or installing a medicine cabinet. These can be placed above the vanity or on an adjacent wall. They're perfect for storing medications, cosmetics, and small towels.
Another way to increase storage is by using baskets or bins. These can be placed on the vanity or shelves and are perfect for holding extra towels, toilet paper, or other bathroom essentials.
Before choosing your vanity, take inventory of everything you need to store and think about the best way to organize it all. With the proper storage solutions, you can keep your bathroom clutter-free and look stylish.
Pay attention to the details
To make your bathroom vanity stand out, paying attention to the details is important. Incorporating reclaimed wood mantels into your design is a great way to do this. These can be used to frame your mirror or to create shelving above your vanity. Not only will this give your bathroom a unique and rustic feel, but it's also an eco-friendly choice. Also, don't forget about minor details like your knobs and handles. Upgrading these can give your vanity a new look without breaking the bank. Finally, consider adding some greenery or decorative accents like candles or a vase of fresh flowers. These little touches can go a long way in making your bathroom feel like a spa retreat.
Upgrading your bathroom vanity is an easy and effective way to refresh the overall look of your bathroom. Remember to choose a style that fits your taste, consider your storage needs, and pay attention to the details. With these tips in mind, you can give your bathroom the upgrade it deserves without breaking the bank. Happy renovating!