The front porch is a fixture of your home and a hub for both family members and visitors. It's also a great place to start when swapping out seasonal décor. After all, it's quite literally the first thing you and your guests see when entering your home! But with so many other parts of the house getting aired out and spruced up for warm weather, it can be easy to overlook the porch. Luckily, a few strategically placed garden accessories and stylish home décor accents will help you transform the porch into a warm weather oasis welcoming to all.
Bring a Southern Vibe with Hanging Ferns — A hallmark of traditional Southern front porches, hanging baskets with ferns bring a summery feel with a bit of a country vibe. These are essential for porches featuring classic rocking chairs and oversized palm leaf ceiling fans. Not big on this style of décor? You can still hang plants in style! Update this look by potting your ferns in more contemporary hanging pots and staggering them at different heights for a unique, artsy look.

Source: Ursula Page/Shutterstock.com

Flank the Door with Large Floral Planters — Flank your front door with a set of large outdoor planters featuring fragrant, colorful flowering plants. If that part of your front porch gets enough sun, you could also decorate with potted fruit trees! If you enjoy sitting on the front porch watching the wildlife, make sure to hang or plant some florals that are enticing to butterflies and hummingbirds. Dahlias, zinnias and pansies are great options.
Fill The Space with Potted Plants – Pepper some vibrant greenery throughout the porch — on the steps, on plant stands and tables, hanging from the ceiling — to create a jungle-like atmosphere. This summery, bohemian-inspired vibe comes to life with minimal effort. To keep it totally jungle-inspired, stick to green tropical plants, such as palms and ferns.
Cozy It Up with Brightly Colored Throw Pillows — If you don't have a small seating area or a front porch bench, start there! A comfy conversation nook will get more use than you might think when chatting with neighbors or greeting friends and family. To ensure that your front porch seating looks up to par for the season, make sure to top it off with some colorful, inviting throw pillows in summer fabrics and shades. Stripes and florals are always great in the summer!
Welcome Guests with Unique Signage — Anyone who loves a relaxed, country-inspired vibe will want to include some rustic-chic signage on or near the front door. Leaning reclaimed wood signs that say "sweet summer" or "welcome sun" will give your exterior a cozy and inviting feel. Pepper small wood signs throughout the porch space to continue the theme.

Source: Shyshechka/Shutterstock.com

Enhance the Door with a Fresh Wreath — A breathtaking wreath is such a simple way to dress up the façade of your home and make it feel more inviting. Rather than swapping out your wreath for the spring and summer, pick out a versatile green wreath that works well in all the warm seasons. Choose dried greens — eucalyptus, boxwood and other hardy greens work well — that translate well from spring to summer. You can change things up throughout the season by swapping out colorful dried flowers and herbs.
Create a Cool Ambiance with String Lights — Give your porch a hip yet welcoming feel by stringing up some bistro lights from the ceiling or high beams. At night, your home will glow and look like a welcoming beacon throughout the neighborhood. If you use the front porch for entertaining, this will give it an enjoyable vibe and will help light things up at night. To ensure that your front porch lights don't look like Christmas lights, make sure to stick to a white color and save the colorful bulbs for the holidays.
Light Up the Steps with Pretty Lanterns — Placing lanterns on each step is another great lighting trick to enhance the front porch aesthetic and also add a bit of safety for visitors stopping by at night. Choose lanterns that honor the vibe of your space and feature solar-powered bulbs so you don't have to worry about power. Rustic wooden lanterns can honor a country, bohemian or beachy vibe, while black metal lanterns are great for more modern or industrial décor schemes.
Create a Warm Lounge Space with a Cozy Outdoor Rug — Don't forget the outdoor area rug for the front porch! This will help make your entryway feel warm and inviting so guests feel comfortable stopping by. Skip the welcome mat and instead place a stylish outdoor rug at the entryway or near the door. You can define a separate seating area in another part of the porch by using a larger area rug and tying it together with a small grouping of patio furniture.
Welcome Pets with a Special Dog Nook — Want to attract all the neighborhood pups? Welcome them to your front porch by creating a doggy drinking nook complete with fresh water and some pup-specific décor. A sweet sign and some treats tucked just inside the front door are necessities with this extra!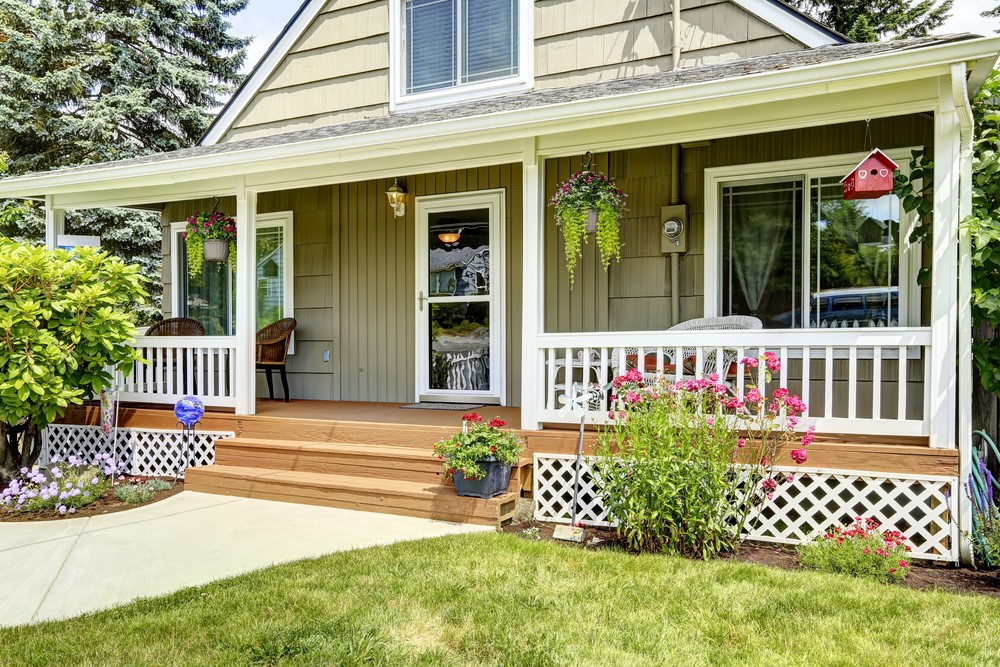 Decorating your front porch or other exterior areas doesn't have to be expensive or time-consuming. With the right collection of cute decorations and some seasonal plants and florals, you can transform even the most uninviting porch into a grand entryway that makes everyone feel welcome, even feathered and four-legged friends!